Sports & Leisure
Home – Sports & Leisure
Hillfield Trail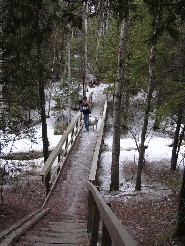 Welcome to mysudbury.ca's Sports & Leisure section which highlights the diverse opportunities Sudbury offers to residents and visitors in the enjoyment of facilities, trails, leisure guide, sports associations, and local sporting news.
Hillfield Trail
Photo courtesy of Rainbow Routes
Facilities
From outdoor playgrounds to relaxing spas, Sudbury has the amenities to suit your leisure interests. Whether you're looking for a swimming pool or an arena, we've got what you're looking for.
Leisure Guide The City of Greater Sudbury's official Leisure Guide. Check out the variety of activities available, ranging from fitness programs, arts and crafts, and sport programs, to computer learning opportunities.
Local Sporting News Get caught up on local sporting events, from the high school to University and everything in between. Keep up to date on your favourite local teams.
Sports Associations
Sudbury has a sporting association for the sport of your choice. Choose from a team sport such as hockey or baseball or individualized sport such as gymnastics and running.
Trails
Sudbury has a variety of trails whether you're looking to go for a relaxing walk or explore nature on a snowmobile.